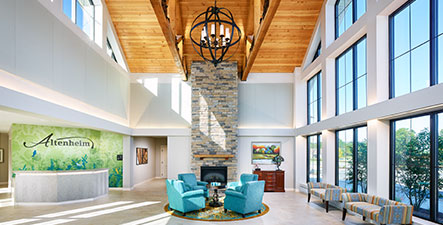 Photo ©2018 Ed Massery
Welcome!
The new, state-of-the-art Therapy Rehab Center is located at 15653 Pearl Road in Strongsville. Offering both in-patient and out-patient services, the Therapy Rehab Center is designed with every comfort and amenity to assist in the recovery process.  The Center adheres to Planetree
principles that remove barriers between clients, families and caregivers.  Services include: Orthopedic Rehabilitation, Cardiac Rehabilitation, Stroke Rehabilitation, Post- operative Care, Pain Control, IV Therapy, Diabetes Management, Wound Care, Physical Therapy, Occupational Therapy, and Speech Therapy.
The Center offers 32 private rooms with private bathrooms including large, accessible roll-in showers, room service, expansive windows, a pub and an outdoor courtyard.
Altenheim is proud to have attained a patient satisfaction rating that is 11 points higher than the average licensed facility per the 2017 Ohio Department on Aging Patient Satisfaction Report. Altenheim strives daily to provide top quality care to each client.
Out-patient physical and occupational therapies at the Rehab Center are provided by Hands-on Physical Therapy Specialists at Altenheim. Nancy Nebenzahl's 15-year-old practice became a part of the Altenheim Life Plan Community about a year ago. "Previously we provided inpatient therapy services to clients on our campus, and we provided home-based therapies in patients' homes. With Nancy's team on board, we now provide top-quality therapies to clients of all ages who are able to come in for an office visit," says Paul Psota, Altenheim CEO.  A unique out-patient offering is hand therapies.  "It's significant for us to be able to offer hand therapies because there are so few specialists in the field," Paul says.
More information on in-patient and out-patient therapies is available at Altenheim.comand HandsOnPTS.com. The phone number for the Therapy Rehab Center is 440-238-3361, and for Hands-on is 440-238-0300.
Shurmer Place Memory Assisted Living, part of the Altenheim Life Plan Community, has been open since April. Five suites remain available! This residence features 38 private suites in six households. Each features a kitchenette and private bathroom with large, fully accessible walk/ roll-in shower.
For more information regarding Memory Care, contact Beth Seese, RN Director of Shurmer Place Memory Assisted Living at 440-268-1048.
https://altenheim.com/wp-content/uploads/2018/08/STR_Now_Open.jpg
225
443
Donna Cantlin
https://altenheim.com/wp-content/uploads/2018/08/altenheim_logo.png
Donna Cantlin
2018-08-03 00:49:01
2018-12-09 20:30:16
Altenheim Therapy Rehab Center is Now Open!